Goodyear Wrangler HP All Weather Tyres Available in Belfast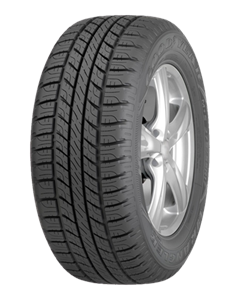 Wrangler HP All Weather
The optimal street tyre for all weather conditions, built with the weather dependent TRED-Technology.
The deep and wide grooves of the Goodyear Wrangler HP AllWeather force water and slush out faster to resisting aquaplaning giving give excellent off-road grip
With its all-weather tread compound, Goodyear's unique SmartTRED Weather Reactive Technology, the Wrangler HP AllWeather offers effective traction in both Summer and Winter both on and off road
The Wrangler HP A/W adapts to changes in road and weather conditions giving the tyre enhanced stability whatever the circumstances and is designed to absorb road noise, making the driving experience a quieter one.
Features
Excellent performance all year round
Aggressive grip in wet and winter weather
Aquaplaning resistance
Quiet, comfortable ride
There are 51 reviews for Wrangler HP All Weather
Overall rating
I have been very happy with these tyres, they seem to hold the road and are quite quiet which I was not expecting really. Very pleased with the choice and price.
12/10/2020

LAND ROVER FREELANDER
11/09/2020

LAND ROVER FREELANDER

Good quality reliable tyres