Goodyear Vector 4Seasons SUV Gen-1 Tyres Available in Belfast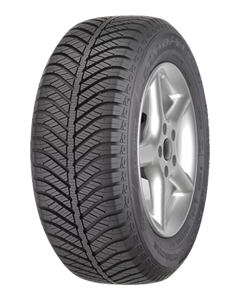 Vector 4Seasons SUV Gen-1
Excellent year-round performance
Enjoy performance all year round with a tyre that adjusts to cope with all types of weather. With Goodyear's Weather Reactive SmartTRED Technology, the Vector 4Seasons SUV adapts to seasons and road surface conditions through the performance of specific tread zones. Certified with the snowflake symbol for winter use.
Improved control in all weather conditions
The Vector 4Seasons SUV offers aggressive grip for icy and snowy roads, with a tread compound and waffle blade design that help your tire grip the road. Deep tread grooves quickly shed water and slush to reduce the risk of aquaplaning.
Long lasting
Go further between tyre changes. The Vector 4Seasons SUV gives you better mileage thanks to its all-weather compound, combined with a flatter contour that spreads pressure more evenly.
Off-road performance
Experience confident off-road driving thanks to gripping edges that maintain road traction.