Bridgestone Blizzak LM005 (Driveguard) Tyres Available in Belfast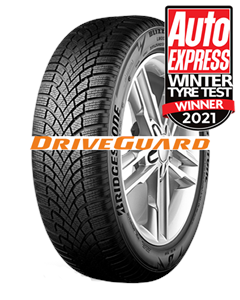 Blizzak LM005 (Driveguard)
The Blizzak LM005 DriveGuard is a new winter tyre designed for snow and wet conditions. This studless tyre is ideal for mild to moderate winter climates in Europe.
DISTINCT GROOVES IN THE TREAD PATTERN
ENHANCE GRIP AND SNOW TRACTION
One of the best ways to attain grip in the wintertime is to choose a tyre with grooves designed for winter conditions. Blizzak LM005 DriveGuard grooves are deeper and set in a zig-zag pattern to channel water, slush and snow away from the tyre's surface and attain that extra grip on snowy and wet roads.
NANOPRO-TECH™ IN THE COMPOUND
EARNED EU LABEL GRADE A FOR WET GRIP
Independent tests awarded Blizzak LM005 DriveGuard with EU Label Grade A — the highest label grade — for its superior performance on wet roads. The tyre stops faster and grips roads better because it uses NanoPro-Tech ™: an exclusive Bridgestone technology that contains bite particles and a silica coating to enhance the tyre's wet grip.*
SPECIAL SIPES IMPROVE BRAKING DISTANCE
SHORTER STOPPING DISTANCE ON WINTER ROADS
Braking is fundamental for safe winter driving, and tyres with the right sipes — little cuts in the tread— can make all the difference. The Blizzak LM005 DriveGuard tread contains multiple 2D and 3D sipes to increase its contact with the road and bite through layers of snow and ice for maximum control.
*DriveGuard allows you to go up to 50 miles to safety after a flat*