BF Goodrich All-Terrain T/A KO Tyres Available in Belfast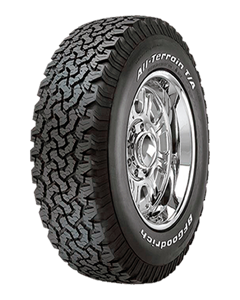 All-Terrain T/A KO
For Multi-purpose and off road 4x4 vehicles (50% on-road, 50% off-road).
Advantages:
Excellent traction on all types of terrain.
Extended tread pattern on the sidewalls.
Heavily siped deep and aggressive tread pattern.
Deep and aggressive tread pattern extended on the sidewalls
Exceptional sturdiness and long life.
Carcass with Trigard structure (three protective plies).
Enhanced contact zone.
Casing with three protective plies
Stiffer tread area with two full width steel belts.
Rim Protector
A bold look that transforms the appearance of any vehicle
Choice of distinctive raised white letters on one sidewall and black outline serrated branding on the other.
Characteristics The All Terrain T/A KO tyre is totally versatile and offers maximum driving pleasure on all types of path:
The tread pattern extends onto the sidewalls.
Deep aggressive tread pattern with high sipe density.
Casing with Trigard structure (three protective belts).